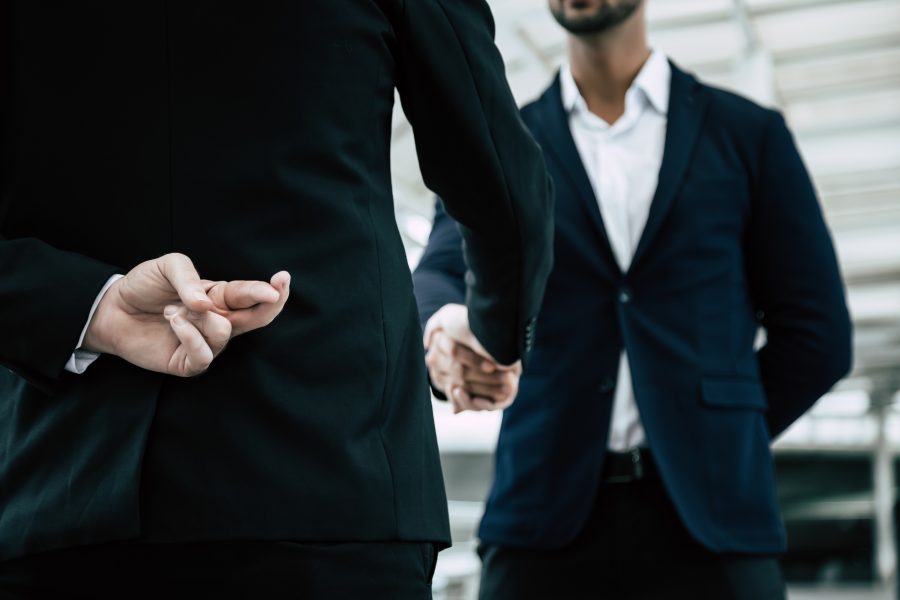 When you enter into any type of business relationship, you're typically doing so in good faith and expecting the same of your service provider. But unfortunately, just as all car mechanics aren't trustworthy, all IT providers aren't either.
Some providers will treat your technology as their own and give you wonderful guidance and support, while others will see you just as a dollar sign and lie to gain or keep your business.
Most companies in Charlotte these days need reliable IT support and many count on managed services plans to keep their companies operating efficiently and help them drive sales and productivity. Their bottom line is often dependent upon their technology running effectively, and thus on the IT provider they've chosen to make that happen.
When you're told lies by an IT provider it can hurt your business in multiple ways:
Extended downtime
Paying more than you thought in IT costs
Buying services that you don't need
Suffering a security breach
Being technologically left behind your competition
The average cost of a cyberattack for a small business is $20,000.
How can you choose the right technology support partner and avoid the bad ones? A good start is to understand the lies that some IT providers tell so you can spot them and move on quickly to someone better.
Things That Some IT Providers Lie About
No one likes being taken advantage of or learning things "the hard way." Knowing some of the common lies that certain IT providers tell can help you more quickly spot and weed out the bad ones and find one you can trust.
We Provide "24/7 Service"
A marketing tactic that some IT providers will use to lure you in is to tell you they offer 24/7 service. Then, you have a major outage on a Saturday, only to reach their answering system saying the office will be back open on Monday.
Many IT providers install software that monitors your systems for any issues or threats 24/7, but that is not the same thing as a live technician being there to help you when you need them. So, the dishonest IT providers will state they offer service 24 hours a day, 7 days per week, when that's not really the case and they're just talking about automated monitoring.
IP Technologies offers true 24/7 tech support. If you need us in the evening or even on a holiday, you'll have a live person to help you.
Everything Looks Fine (Until It Isn't)
Unprofessional IT providers will tell you "everything looks fine" when they come for a visit, even if they haven't checked everything they should. Telltale signs you've chosen the wrong managed service provider are them rushing through a maintenance visit or rarely visiting at all.
Instead of providing proactive support, they'll be more reactive. Not really checking things or maintaining equipment properly, but instead just fixing things when something goes wrong.
Your Plan is "All Inclusive"
A big lie told by some IT providers that ends up costing their clients in unexpected IT costs is that their managed services plan is "all inclusive." Then, a server crashes, and suddenly they start going through the fine print of all things that weren't actually included in their plan and that they are going to charge you extra for.
One of the main reasons that companies use managed IT services plans is to have a predictable monthly flat rate for all their technology services. That's why the flat-rate fee for our tailored managed services package covers things like network outages and server fails. We don't add on any surprise costs.
You Don't Need Additional Security Measures
If an IT provider has a service partner agreement with a particular antivirus program (meaning they get a commission when they sell it to a client), they may stop there and not offer additional network security that you need and tell you that you're fine without anything else.
Today's offices need multiple layers of IT safeguards that include a firewall, antivirus/anti-malware, web protection, end point protection, and more. If your IT provider isn't saying you need multiple layers of protection, then they may not be being honest with you.
We Can Provide Compliance Support
Data privacy has become an important part of any company's technology and business operations. If you take credit or debit card payment, you're required to comply with the Payment Card Industry Data Security Standard (PCI DSS), if you sell to any companies in Europe, then you have to comply with the EU's General Data Protection Regulation (GDPR). And there are multiple other data privacy standards, depending upon industry.
Most businesses will ask about data privacy compliance experience nowadays when evaluating a managed IT provider, and those that are less than trustworthy, may say they can help with it without even really knowing much about the standards you're dealing with.
Make sure you ask questions about an IT provider's experience with data privacy compliance standards so you can access whether or not they're being completely honest about their capabilities.
Work with a Charlotte IT Provider You Can Trust
IP Technologies is proud of having a reputation as a trusted IT partner that companies feel good about doing business with. We always strive to exceed service standards and our main goal is to help your business succeed.
Contact us today for a free consultation. Call 704-912-4999 or reach out online.